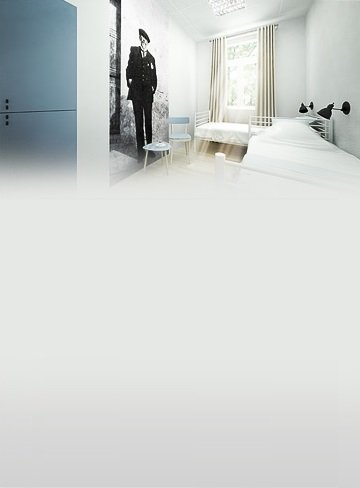 Try our accommodation in Warsaw Hostel Centrum.
We offer you low prices, city centre location and unique interiors. Give us a go!
We're happy to announce that our Hostel first opened on June 2nd 2016. What a day!

Now that the excitement is over we'd like to introduce ourselves:
Hello World! Hostel Centrum in Warsaw is finally opened for business!
When you take into consideration the combined experience of the people responsible for the newest hostel in Warsaw (eight years of running a boutique hotel in Gdańsk and twelve years of running a hostel) you'd think we came up with something extraordinary and you wouldn't be wrong :)

Our Warsaw Hostel Centrum was supposed to be a bit different, to stand out from the crowds. Our message is: We're Polish and we're proud of our heritage. We'd like to teach you a bit about our culture and history - isn't it one of the reasons we travel?

That's why every room and common area is decorated with large wallpapers introducing famous Poles and important events from Polish history. You can learn all about it by scanning a QR code - simple as that. Looks cool as well! Obviously we couldn't fit in everything, the Hostel is nowhere near big enough for that, but it's a start.
What else do we offer?
24 hour reception desk equipped with a safe to store your most precious valuables
large common area with satellite TV
guest kitchen & dining area
free tea & coffee
free luggage storage
drinks, snacks & toiletries available at the reception desk
secure key card system
dorm rooms equipped with lockers, luggage baskets, reading lamps & small shelves
use of iron & ironing board
towels for rent
free Wi-Fi access throughout plus two guest computers in common area
knowledgeable staff that live, study and party in Warsaw - an excellent source of local tourist and party information
free city maps
shared bathrooms equipped with hair dryers
games to borrow (free of course) like jenga, scrabble, cards, dominoes, etc.
Check in / Check out

Our hostel has a 24 hour reception desk but please remember to inform us if you're planning to arrive in the middle of the night.
Check in - 3 pm.
For early arrivals we provide luggage storage (free of charge) and full use of  Hostel facilities before being checked into the room.
Check out - 10 am.
You are of course welcome to use our luggage storage if leaving Warsaw later in the day.
Please note:
All guests must present a valid passport or national ID card upon arrival (driving licences are not acceptable)
Our hostel has a strict non smoking policy
To get a student discount for public transportation tickets you have to be under 26 years old and be an ISIC card holder